Gripnail Glider 665
The power and simplicity of our 660 with a movable head!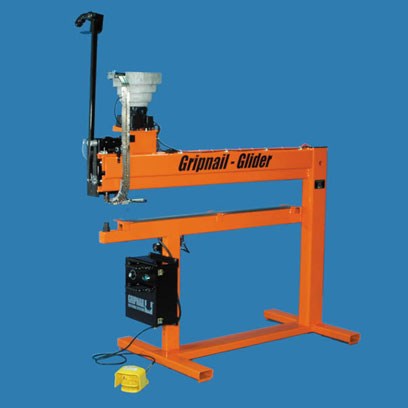 Contractors who regularly line large fittings and straight duct will find the convenience of the Gripnail Glider speeds their assembly and reduces their fabrication costs. The impact head travels a full 60 inches for lining 5-foot wide duct. The head is moved with a multi-position extension arm and glides on specially designed bearings. A Gripnail is set each time the operator squeezes the pistol grip's trigger. The frame is cut out at either end of the anvil to accommodate flanged duct. The glider may also be operated by the foot pedal.
Gripnail machines were first introduced to the HVAC industry in 1970 and have proven their reliability in the most severe duct manufacturing environments. The Gripnail Glider 665 AFC brings this reliability to a new level. All sensors are non-contact and improvements have been made to the feed and drive systems. Critical components are sealed and not affected by dirt, airborne particles, temperature or humidity. They have been combined with the same rugged components that been proven over the last 35 years of machinery manufacturing; Our own drive cylinders, made from special alloys to withstand continuous pounding, nail tracks made of stainless steel for greater wear resistance and vibrator bowls that run for decades. This is by far the simplest and most reliable Gripnail machine ever built.
---
Moving Head
Speeds productions
Flange Cutouts
Permit continuous lining of flat or L section flanged duct.
Fast
Gripnails fasten instantly and this machine will stay ahead of the operator.
New Improved Reliability
The Gripnail Glider 665 AFC uses a PLC (Programmable Logic Control) and non-contact proximity sensors in place of pneumatic valves and mechanical actuators.
Easy To Operate
Just fill the feeder bowl with Gripnails, set the air pressure and step on the foot pedal. Drive up to 1,000 fasteners before refilling.
Standard 5 Foot Throat
Fastens large duct sections, reducing material handling.
Front Mounted Component Cabinet
Affords easy access for service needs.
Visual Load Cycle
Quickly confirms electronic functions.
Proprietary Drive Cylinders
Made from special alloys to withstand continuous pounding.
NEMA 12-Rated Electrical Cabinet
Protects electrical component to minimize machine down-time.
Lightweight Foot Pedal
Allows easy movement by operator; cord protector prevents damage.
Uniform Fastening
Regulated air pressure and our own proprietary drive cylinders, consistently deliver the exact same impact, for perfect fastening every time.
Compact
Place between work tables for efficient work flow.
---
Specifications
| | |
| --- | --- |
| Air Pressure | 80 P.S.I. |
| Electircal | 120 VAC/60 Hz (50 Nz also available |
| Working Depth | 60" |
| Total Depth | 71" |
| Weight (crated) | 725lbs. |
| Volume | 2 - 3 C.F.M. |
| Anvil Height | 36" |
| Total Width | 32" |
| Freight Class | 85 |