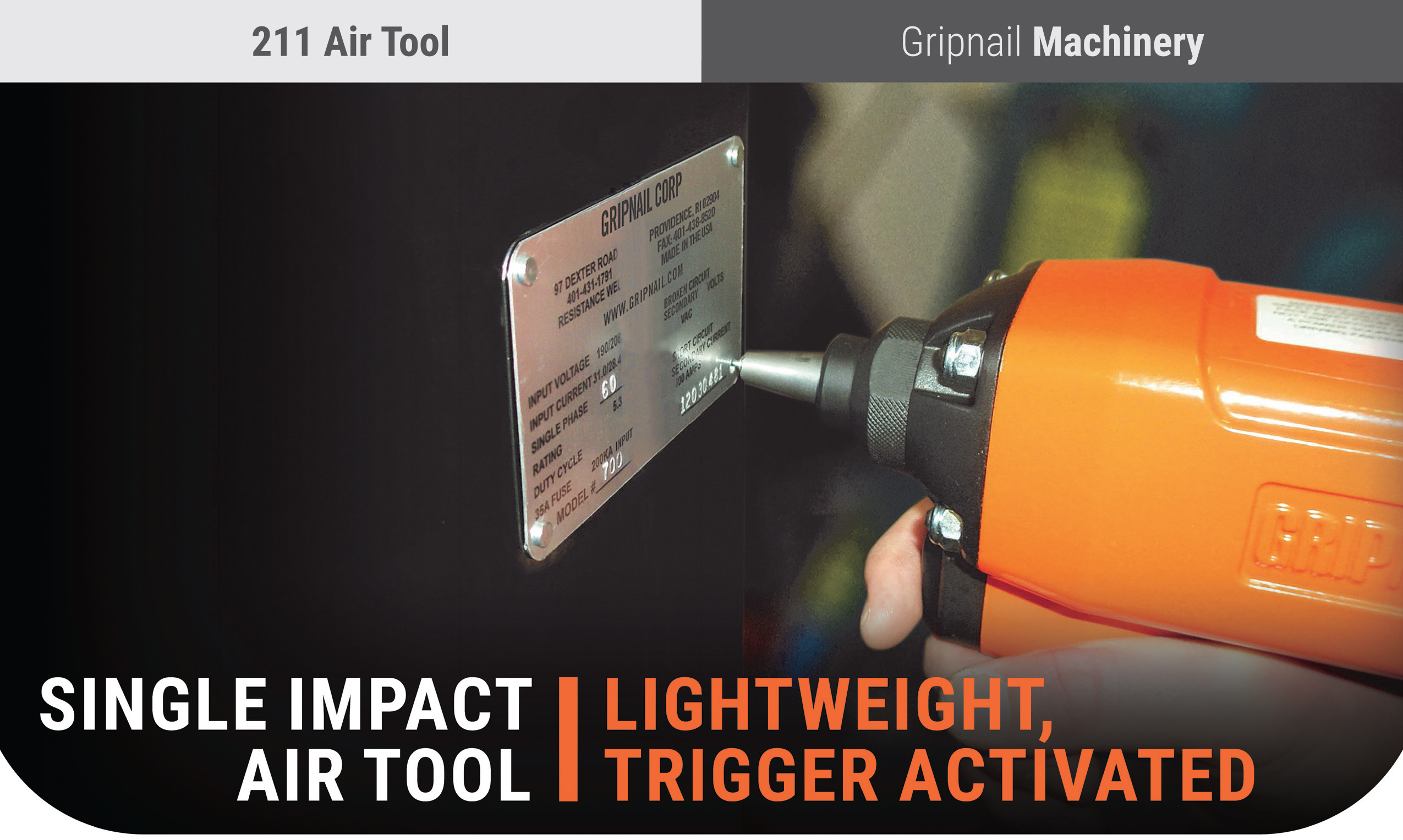 Rugged, Ergonomic and Portable
The Gripnail 211 Air Tool is used for driving fasteners that require a precise, regulated, simple impact. This trigger activated tool has a safety interlock that prevents accidental firing and impact is adjusted with the incoming air pressure. The lightweight, ergonomic design has a comfortable, cushioned handle and includes The Freedom Swivel® air coupler to help keep the air hose from interfering with the operation.
---
The 211 Air Tool is compatible with these and other Industrial Fasteners
MetalTack is specifically developed to fasten lightweight parts such as name plates and cable tie mounts to solid metal products such as pumps, valves and machinery. MetalTacks do not require any drilling, adhesives, or any other surface preparation.
PunchPin is designed to fasten light loads to sheet metal in less time than it takes to drill a hole. These simple, quick fasteners work perfectly to attach name plates, able tie mounts and small components to metal doors, electrical cabinets, steel tubing, etc.
TackMount quickly and permanently fasten cable tie mounts to metal without drilling, adhesives, or any other surface preparation. These fasteners are manufactured from impact resistant plastic with pre-inserted hardened steel MetalTacks. TackMounts are available in white or black.

Why the 211 Air Tool
The 211 Air Tool improves operator use with its lightweight ergonomic design. The tool only weights 4.5 lbs. Each tool includes The Freedom Swivel® air coupler and an air regulator. Drivers are not included and should be ordered separately.
The Freedom Swivel Air Coupler
The Freedom Swivel air coupler improves the performance of pneumatic hand tools. Its hemispheric range of motion makes any job easier, and makes tools and users more productive.
Air Regulator
The 211 Air Tool is pressure dependent and operates between 50 and 100 PSI.
---
Air Tool Drivers
Selecting a Driver
Four types of drivers are available for applying Gripnail Industrial Fasteners.
Recessed Drivers
Recessed drivers have a slight counter bore in the tip, which allows for the fastener to be centered on the driver. This also assists the operator in steadying the fastener. These drivers are particularly helpful when fasteners are being applied to a vertical surface.
Flat Faced Universal Drivers
Flat faced drivers have a smooth face and may be used with any of the Gripnail Industrial Fasteners. Most often recommended with an application that uses multiple different liens of Gripnail Industrial Fasteners.
Extended Drivers
Extended drivers are available for applications where additional clearance is needed between the air tool and the base metal.
Flared Tip Drivers
Flared tip drivers are the only nonmagnetic drivers specifically designed for the TackMount® cable tie mounts. This is a friction based driver that clips TackMounts onto the end for a secure hold at any angle.

---
Safety
The Gripnail 211 Air Tool features a safety interlock to prevent fasteners from being accidentally projected from the tool. The fastener and driver must be pressed firmly against the work surface in order for the driver to contact the piston. The tool may be activated if the driver is not depressed, but the fastener will not be projected as the air is released through designated pressure release valves.
MetalTack
TackMount
The Freedom Swivel
Gripnail Air Tool Ergonomic And Easy Operation
Thank you, for letting us try the Gripnail Air Tool.We found that equipment very well designed. Its ergonomics and ease of operation surely places your equipment on top of the class. We put your company and product in our record and will include it in our planning
Once again, thanks for the opportunity.
Gregory Filipowicz
Asst Engineering Manager
FlowTek (Bray International)
Houston, Texas